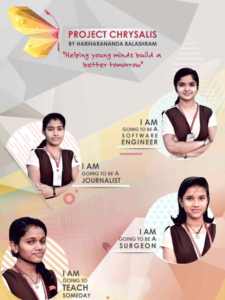 The first batch of Balashram children are completing Class 10 and graduating from the school in 2016. The purpose of Project Chrysalis is to build a fund which will enable these children to either complete their secondary education at other schools or be trained for specific skilled jobs at vocational institutions.
The current funding mechanism of Hariharananda Balashram cannot provide for children after they graduate from the institution and so we request you to support them and secure their future through Project Chrysalis.
Funds received through Project Chrysalis will only be used for supporting the further education/job training of these children after they leave Balashram. Project Chrysalis will have a completely transparent project tracking mechanism which will provide regular updates to contributors.
Guided by a commitment to excellence,Balashram utilizes the best eastern and western methods of education to create a dynamic and loving environment for the children. Its holistic approach provides a balanced and nurturing foundation for the physical, emotional,mental and spiritual growth of the child.
Balashram has the facilities to develop sporting talent in children and trains interested children in soccer, volley-ball, basketball and other sports. Children are also taught life skills such as plumbing, tailoring, etc. For more details on Balashram please visit http://www.hariharanandabalashram.org
Donate for Project Chrysalis