About Us
Hand in Hand USA is a US based non-profit humanitarian organization who works with Prajnana Mission and Hand in Hand Europe to support a number of humanitarian projects in rural India and elsewhere in the Globe. Some of the projects that we actively fund and support are .....
Help Us
Hand in Hand USA needs your support to continue its activities in the field of education, health and emergency relief. All contributions made to Hand in Hand USA are fully tax deductible. So please make a small contribution today and help us make a difference for the better and further our activities...
Latest News
Thanks for visiting us. Its patrons like you whose support and encouragement keeps us going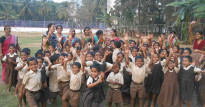 Here are some  photos from the 12th Annual Sports Meet-2015 that was held between 5th -6th of December, 2015 at Hariharananda Balashram.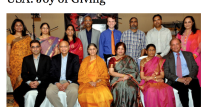 Our 13th Fundraiser came in the news. Please check this out…
Upcoming Events